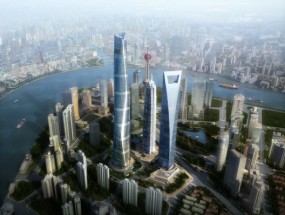 List of the 20
tallest tower in
the year 2020
- Entering the 21st century, the tower as high as 300 meters or commonly referred to as supertall considered outdated. Today, the world is entering into the era megatall alias buildings with a height of more than 600 meters.
As quoted from Archdaily, Friday (01/06/2011), recently of The Council on Tall Buildings and Urban Habitat issued a list of the 20 tallest buildings in 2020, as many as 18 of them have more than 500 meters high, so the term does not fit supertall another described them.
Here's
a list of 20
tallest tower in
the year 2020
:
Kingdom Tower

,

Jeddah

with a height of

1,000 meters

.

Burj

Khalifa,

Dubai

with a height of

828

meters

Finance

Center

Ping An

,

Shenzhen

with a height of

660

meters

Seoul

DMC

Light

Tower

with a height of

640 meters

Signature

Tower

Jakarta

with a height of

638

meters

Shanghai

Tower

with a height of

632

meters

Wuhan

Greenland

Center with

606

meters

high

Makkah

Clock

Royal

Tower Hotel

with a height of

601 meters

Goldin

Finance

,

Tianjin

with a height of

597

meters

Lotte

World Tower

, Seoul,

with a height of

555 meters

Doha

Convention Center

and

Tower

with a height of

551

meters

One World

Trade Center

,

New

York

with a height of

541

meters

Guangzhou

Fook

Chow

Tau

with

530 meters

high

Chow

Tai

Fook

Binhai

Center

with a height of

530 meters

Dalian

Greenland

Center with

518

meters

high

Pentominimum

,

Dubai

with a height of

516

meters

Town

Busan

Lotte

Tower

with a height of

510

meters

Taipei 101

by

508 meters

high

Kaisa

Feng

Long

Center

with

500 meters

high

Shanghai

WFC

with a height of

492

meters
In the early 21st century, 452-meter-high Petronas towers to hold the title as the tallest building in the world. Ten years later, this title is moved to the Burj Khalifa towering more than half a mile, exactly 828 yards.
Currently, the construction of the world's tallest tower candidates being worked on. The tower is named Kingdom Tower in Jeddah as high as 1 km. In just twenty years, his highest tower in the early 21st century could be bypassed with a high two-fold. Now the tower 600 meters 300 meters already replaced the trend.
Twenty tallest tower in 2020 was spread across 15 cities in seven countries. China lead by claiming that 10 of the 20 towers would be built in his country.
Followed by South Korea with three towers, two towers Saudi Arabia, and Europe as well as two towers. A total of 14 towers located in Asia, and five towers in the Middle East.
Ping An Finance Center in Shenzhen, China, scheduled for completion by 2015. 660-meter-high building that would be the highest in the bamboo curtain country, offers more than 300,000 m2 of office space.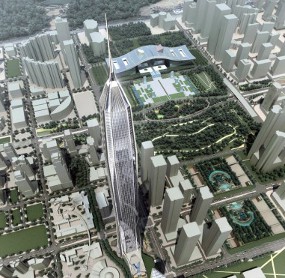 Standing 632 meters tall, the building will complement the superblock Shanghai Tower megatall buildings in the city of Pudong. Construction of this project was started in 2009 and is expected to be completed 2014.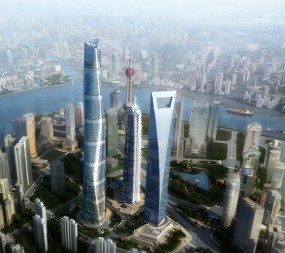 Megatall three buildings to be built in South Korea sits in Seoul. Seoul DMC Light Tower will be the most high, standing 640 meters west of the city with views towards the Han River.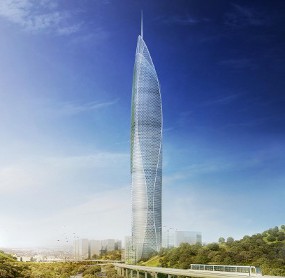 Lotte World Tower as high as 555 meters which is currently under construction is predicted to be completed by 2015. Two other high buildings, Triple One-high 620 yards and Hyundai Global Business Center as high as 540 meters, still in the stage of licensing so it is not included in the count. However, it became evident the development of a high tower which is quite rapid.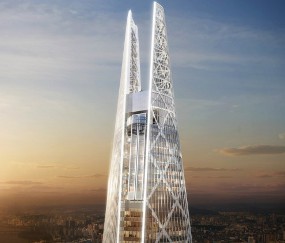 Signature Tower will be the tallest tower in Jakarta with a height of 638 meters, surpassing the record held by Wisma 46 as high as 262 meters. The tower will be built in the Sudirman Central Business District.
Located near the ruins of the old WTC Building, One World Trade Center Tower will be the tallest building in New York in 2013.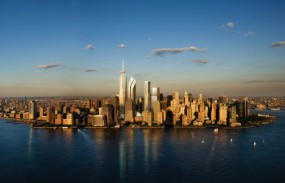 According to the CTBUH in his article, which became a question of humanity today is not 'how high can we build?' but rather the 'how high should we build?'.
(ang/qom)